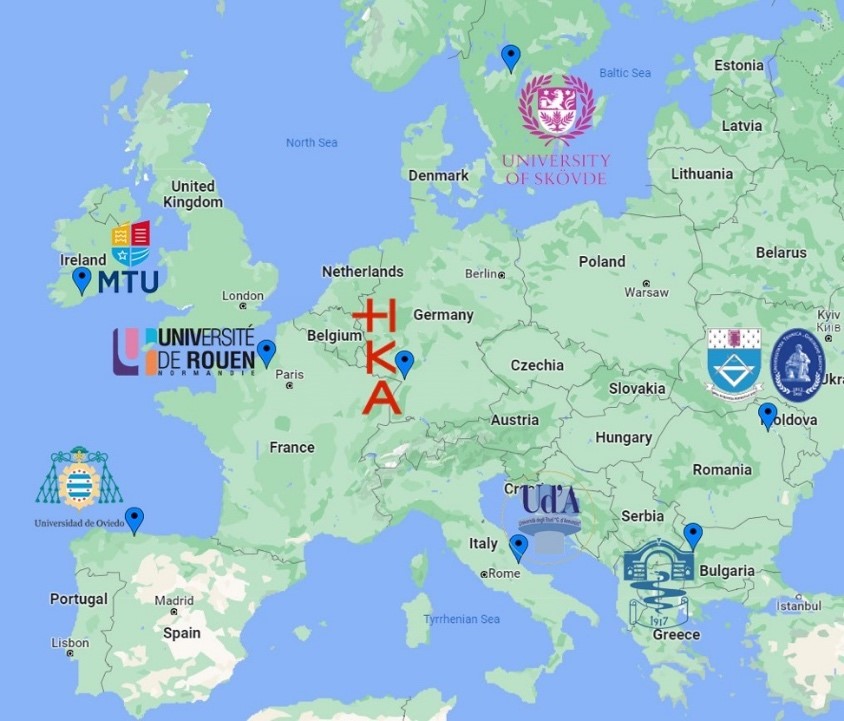 The kick-off meeting and the first steering committee meeting of the BI4E Consortium took place on 7 October 2022 at the University of Rouen Normandy – CURIB, gathering 25 participants – members of the project teams and representatives of the partner universities.
Because all partner universities in the BI4E project are also members of the INGENIUM Alliance of European Universities, the kick-off event was connected with the second INGENIUM Symposium, hosted by URN on 5 – 6 October.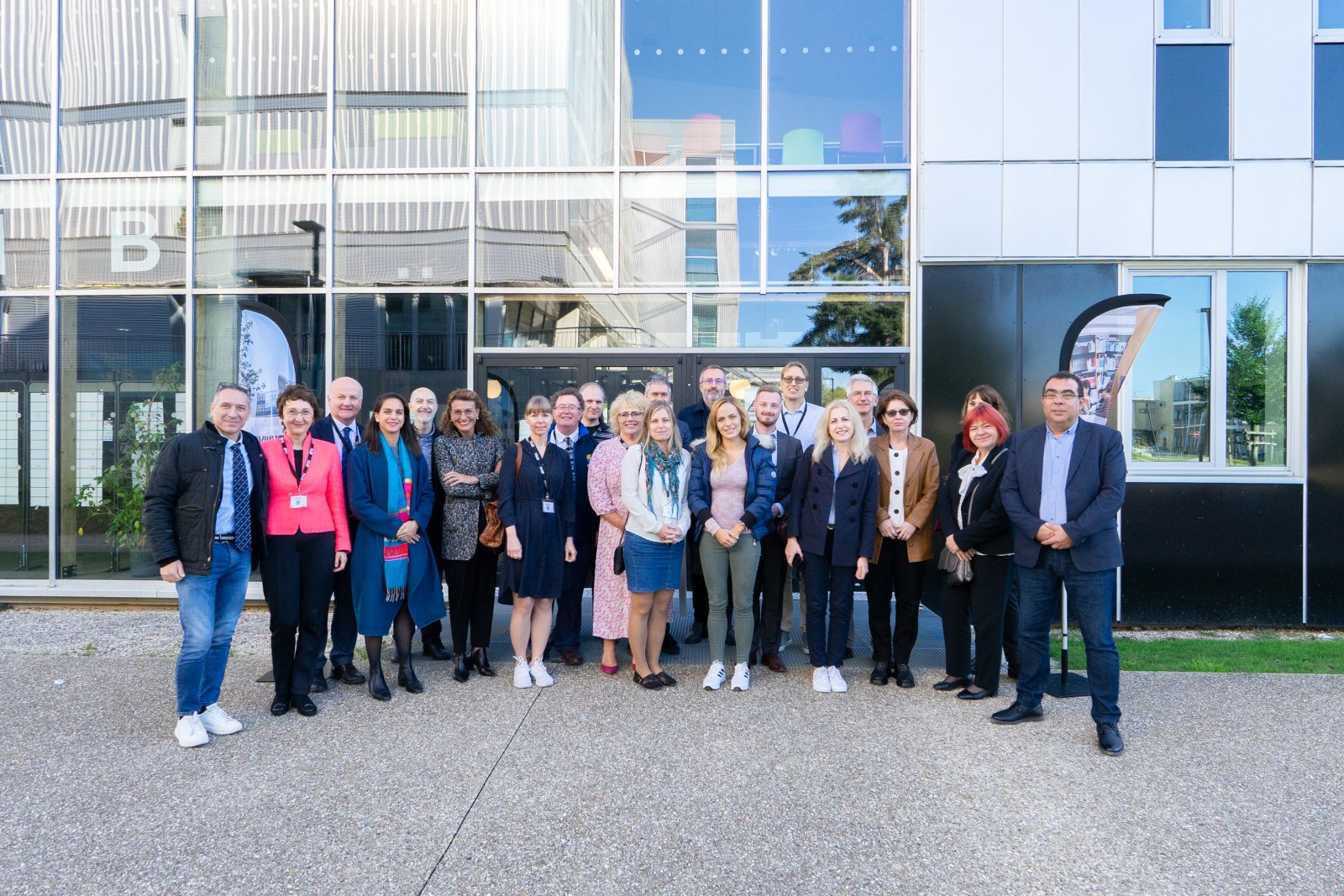 The event laid the groundwork for the efficient running of the project implementation and ensured a common understanding of all the partners on the project development and their key roles. It was also an opportunity for the partners to introduce their project teams and get more information about the project management procedures.
BI4E project objectives over the course of 36 months:
Foster strategic planning capacities, institutional transformation, excellence in research, talent attraction and connections with local ecosystems in the partner HEIs, particularly those in the widening countries (Romania and Bulgaria);
Improve HEI capacity to address major challenges, through the implementation of strategic planning adapted to their needs, institutional transformation, cooperation in terms of research, fostering entrepreneurship and the promotion of international scientific careers;
Help to build closer cooperation links between the partners that will facilitate the exchange of information, knowledge and experience.
Work packages 2 – 6 are focused on implementing the transformation needed to foster research and innovation by strategic planning, resulting in developing the critical mass of people working together in new projects, attracting young researchers in universities, better equipped for technological transfer and entrepreneurship.
Collection and analysis of information
Exchange of experience and transfer of knowledge
Implementation of lessons learned
WP2
(P6 – URN)
Collection of good practice on strategic planning
Seminar on strategic planning Position paper on the EHEA challenges
Support to Strategic Planning in the Widening countries
WP3
(P5 – MUS)
Survey on the governance and resource management systems
Identification of drawbacks and good practices in governance
Study visits and staff training exchanges
Seminar on fundraising
Guidelines for better governance and institutional transformation
WP4
(P4 – Ud'A)
Collection and sharing of best practices in research

Identify infrastructures and resources to be shared
Workshop on Advancing Research Integrity Practices and Policies
Open cloud platform for matching research interests
WP5
(P7 – MTU)
Identification of good practice and success stories in tech transfer
Awareness raising/Training on entrepreneurship support
Catalogue of services associated with innovation
Network of Technology Transfer Offices
WP6
(P3 – HKA)
Survey academic staff on conditions and incentives
Survey of partner universities on challenges to attract academic talent
Guidelines for human resource management based on best practices
Training programmes for research/academic staff
"TUIASI is proud to coordinate this Horizon Europe new project to participate in the collective learning and training process, to improve its capacity to address the major challenges by the implementation of adaptive strategic planning in research and innovation, fostering successful scientific careers and building on the existing strengths of each partner university for cooperation in new projects",

said the university representatives.
Consortium members:
GHEORGHE ASACHI TECHNICAL UNIVERSITY OF IAȘI (TUIASI), the Coordinator and WP1 Leader
UNIVERSIDAD DE OVIEDO (UNIOVI) – WP7 Leader
HOCHSCHULE KARLSRUHE (HKA) – WP6 Leader
UNIVERSITA DEGLI STUDI GABRIELE D'ANNUNZIO DI CHIETI-PESCARA (Ud'A) – WP4 Leader
MEDICAL UNIVERSITY SOFIA (MUS) – WP3 Leader
UNIVERSITE DE ROUEN NORMANDIE (URN) – WP2 Leader
MUNSTER TECHNOLOGICAL UNIVERSITY (MTU) – WP5 Leader
HOGSKOLAN I SKOVDE (HIS)
Project value: 2 million €
The BI4E project benefits from the support of the associated partners of universities presented below.
Associated to TUIASI:

AGENTIA PENTRU DEZVOLTARE REGIONALA NORD-EST (NORTH EAST RDA)
SC INTELECTRO IASI SRL (INTELECTRO)
TEHNOPOLIS SRL (TEHNOPOLIS)

Associated to UNIOVI:

INSTITUTO DE DESARROLLO ECONOMICO DEL PRINCIPADO DE ASTURIAS (IDEPA)
COMPANIA PARA LA GESTION DE RESIDUOS SOLIDOS EN ASTURIAS SA (COGERSA)

Associated to MUS:

UNIVERSITY OF MEDICINE – PLEVEN (MU-Pleven)
MEDITCINSKY UNIVERSITET-PLOVDIV (MU-Plovdiv)
MEDICAL UNIVERSITY OF VARNA (MU-Varna)

Associated to URN:

CENTRE HOSPITALIER UNIVERSITAIRE DE ROUEN (CHU-ROUEN)
INSTITUT NATIONAL DES SCIENCES APPLIQUEES DE ROUEN (INSA Rouen)

Associated to MTU:

IT@CORK ASSOCIATION LIMITED (IT@CORK)
CIT INNOVATION CENTRE LIMITED (RUBICON CENTRE)