Gheorghe Asachi Technical University of Iaşi participated on 1 February 2019 at the University of Birmingham, UK at the Fourth Core Group Meeting and First Strategic Meeting with Industry organised in an international COST project (financed by HORIZON 2020). This project, where the university is a partner, is called NANOUPTAKE: "Overcoming Barriers to Nanofluids Market Uptake".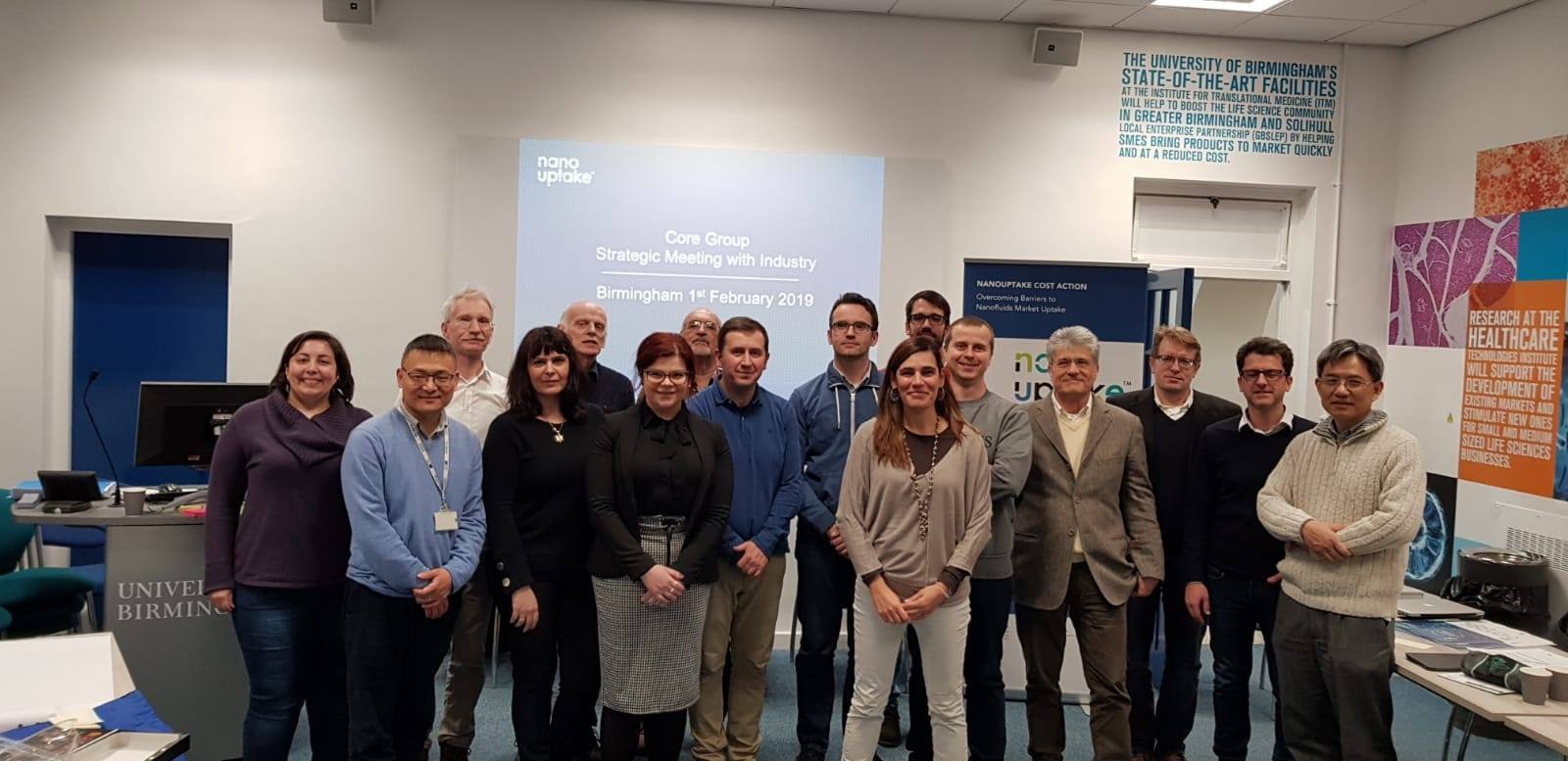 Both events were hosted by The Chemical Engineering Department, University of Birmingham and took place in United Kingdom. Gheorghe Asachi Technical University of Iaşi is a full member of the Core Group and Management Committee through prof. dr. habil. Alina Adriana MINEA (from the Faculty of Materials Science and Engineering) implication in the project, also as dissemination coordinator of this COST action.
Nanouptake (Overcoming Barriers to Nanofluids Market Uptake) is a COST Action that aims aims to strengthen the scientific coordination and collaboration of the network of leading nanofluid R + D + i centers and industries to develop and foster the use of nanofluids as advanced heat transfer / thermal storage materials to increase the efficiency of heat exchange and storage systems.
To achieve these challenges, a strategic meeting between the Nanouptake Core Group and industries has been also organized. The meeting has the aim to create identify the present barriers for the nanofluid implementation in the industry and encourage cooperation of several nanofluids research institutions and industries across Europe to advance in overcoming them.
The 4th Core Group meeting has as first purpose to discuss and approve the budget and activities for the last year of the project and to set up the organization of the 1st International Conference on Nanofluids (ICNf2019) and the 2nd European Symposium on Nanofluids (ESNf2019) to be held in Castelló (Spain) from 26th to 28th June 2019, Spain. More info here.
This event gathered participants from 10 European countries as well as participants from industry from Spain, Greece, UK and Holland.
Nanouptake Core Group
Leonor Hernández Universitat Jaume I, Spain
Laura Menéndez Universitat Jaume I, Spain
Yulong Ding University of Birmingham, United Kingdom
Patrice Estellé Université Rennes 1, France
Bengt Sunden Lund University, Sweden
Gawel Zyla Rzeszow University of Technology, Poland
Matthias H. Buschmann ILK Dresden gGmbH, Germany
Luis Lugo University of Vigo, Spain
Oronzio Manca Seconda Università degli Studi di Napoli, Italy
Alina Adriana Minea            Gheorghe Asachi Technical University of Iasi, Romania
Sohel Murshed Universidade de Lisboa, Portugal
Carlos Nieto Castro Universidade de Lisboa, Portugal
Bartosz Zajączkowski Wroclaw University of Science and Technology, Poland